Christmas is right around the corner. If you still haven't finished your Christmas shopping, don't worry. You wouldn't be the first and anyway, Kugali has your back. Firstly, a formal apology for our limited posting on games recently. I introduced the team to a few popular slots games and we got very distracted. Now without further ado, here's a list of five comic books and video games to make your loved ones, or you, smile on Christmas day.
1) Is it a queen? Is it a warrior? Well, this is Africa, so it's both!
For those of you who still haven't got around to reading this incredible tale, it's never too late. Set in fifteenth-century West Africa, Malika: Warrior Queen follows the exploits of a queen and military commander as she works to keep her Empire from splitting. As she fights to win the war within her empire, she also has to turn her attention to an enemy that has plans to conquer her people. This comic is great for all readers, and Malika makes an excellent role model for girls who read comics.
2) Welcome to Chicago.
W
First on our list as we return to Afro-gaming is We Are Chicago. Play as Aaron, a highs school kid whose best friend has stopped showing up to school a week before they graduate. Players will uncover what's going on, who Aaron's real friends are, and who they can trust while relying on the community around them to help. A portion of the proceeds of the game will also go to organizations helping to curb violence and provide opportunities to people living in Chicago's south and east side.
3) Afropunk like you've never seen it before.
In Kayin and Abeni, the two main characters are survivors as war. As children, they witnessed their clan wiped out by a nomadic space tribe. As adults, they use their clan's advanced technology to accomplish all kinds of missions for all kinds of clients. This naturally leads them to some adventures worth reading. This new Afro-space fantasy world is brought to you by the marvellously talented Keenan Kornegay and Juni Ba. As always, Ba's artwork is a unique take on Afro-Punk. This comic is like nothing you've seen before. Issue 1 and 2 are out now!
4) African politics, your way!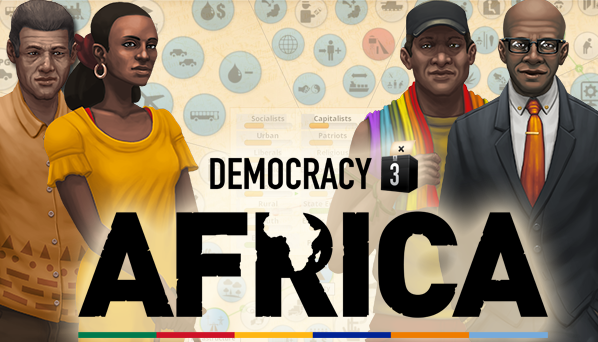 A lot has happened in 2017. Gambia's president of two decades stepped down. South Africa's ANC has experienced its first major post-independence crisis under corruption charges. Zimbabwe has had its first change of president since 1980. African politics has been full of surprises this year, so what better time to try out Democracy 3: Africa. This political strategy game puts you in charge of African countries and challenges you to stay in power whilst fixing each country's problems. You decide how much aid you will accept and from who, what role the military plays in the country, and whether a little corruption is necessary to get the ball rolling.
5) The best thing you'll read all year.
Last but not least, the Kugali Magazine. It's technically three comics in one, but we figured you wouldn't mind us cheating on this one. Launching Issue 0 was an exciting experience, and right now we're still pretty stoked about the release of Issue 1. Issue 1 feature Garanyazha, a politically inclined comic set in modern day Zimbabwe, Mumu Juju, a whimsical story set in a fantasy version of Nigeria, and Outcasts of Jupiter, a story set in a futuristic rendition of Morocco. Whichever issue you pick up, we're certain you won't be disappointed.